<![if !vml]>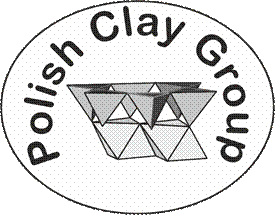 <![endif]>
---
On the 22nd February 2017, Professor RNDr. Jiři Konta DrSc. died at the age of 95. He was an Honorary Member of the Mineralogical Society of Poland.

<![if !vml]><![endif]>

   Jiři Konta

 (1922-2017)

On July 17, 2017 died Professor Jean Louis Robert, an outstanding French scientist involved in experimental mineralogy, especially in the structural study of mica and amphibole using spectroscopic methods.

The mention of Professor Jean-Louis Robert can be found on the website of the French Society for Mineralogy and Cristallography.

<![if !vml]><![endif]>Jean-Louis Robert

(1948-2017)
POLISH CLAY GROUP
a section of the Mineralogical Society of Poland
President
:
Dr. Tadeusz

Szydłak

(

AGH

University of Science and Technology,

Kraków

)
Vice-President:
Dr.

Czesław

August (University of

Wrocław

)
The Polish Clay Group has the formal status of a section of the Mineralogical Society of Poland. The group was founded on March 22, 1973 in Kraków. Originally, it was headed for many years by Prof. Leszek Stoch, then by Prof. Edeltrauda Helios-Rybicka. In 1999, Prof. Jan Środoń took over and a two-year term of the head was introduced. In the next years the chairmen of the Polish Clay Group were successively Prof. Krzysztof Bahranowski, Dr. Czesław August, Dr. Katarzyna Górniak, Prof. Jan Środoń, Dr. hab. Paweł Bylina, Dr. Tadeusz Szydłak and Dr. hab. Michał Skiba. At present this function is being performed by Dr. Czesław August.
Over past 45 years, the group organised numerous lectures devoted to clay minerals, 23 one or two-day symposia, and 4 three to four-day national conferences (1977 in Boleslawiec, 1983 in Krakow, 1988 in Warsaw, and 1993 in Trzebieszowice). In 1999, the group hosted the European Clay Conference (EUROCLAY) in Kraków. In 2008, the group organized the 4th Mid-European Clay Conference in Zakopane.
In 1998 the group formally joined AIPEA. At the beginning of 2018 the Polish Clay Group amounted to 44 formal members. At present, the group meets once a year for a one-day session in November. A fund supporting the participation of young scientists in EUROCLAY conferences was established in 2000. The first awards were granted in 2003 at the EUROCLAY meeting in Modena, the second – in 2007 at the EUROCLAY meeting in Aveiro, the third – in 2011 at the EUROCLAY meeting in Antalaya, Turkey. The next EUROCLAY will be held in 2019 in Paris, France.
 Information on the Polish Clay Group Award 2019 
In 1999, the group formed a federation with Slovak, Hungarian and Croatian partners, which decided to held joint conferences Mid-European Clay Conference (MECC). The first one took place in 2001 in Stará Lesná, Slovakia. The Next MECC: 2004 - Miskolc, Hungary; 2006 - Opatija, Croatia; 2008 - Zakopane, Poland; 2010 - Budapest, Hungary; 2012 - Dresden, Germany; 2014 - Průhonice, Czech Republic; 2016 - Košice, Slovakia; 2018 – Zagreb, Croatia. In 2020 the 10th MECC will be organized in Kliczków, Poland.
Scientific symposium in Sobótka – June 2005
Scientific symposium in Kraków – May 2006
Scientific symposium in Kraków – May 2007
4th Mid-European Clay Conference in Zakopane – September 2008
Scientific symposium in Kraków – September 2009
Scientific symposium in Warszawa – September 2010
---